Transcriptions
[ Up ] [ Paraphrases ] [ Score Paper ] [ Piano Library ] [ Jazz Notes ] [ Transcript ] [ Arrangements ]
This page contains Acrobat files of jazz solos transcribed from the original performance recordings.
Music and lyrics by Romberg and Hammerstein. Transcribed from Jazz at the Blackhawk, Fantasy Records F-8096.
Tjader's rendition of Lover Come Back to Me is remarkable for its melodic character and unrelenting pace. The entire cut is his solo with the rhythm section, including Vince Guaraldi's piano, relegated to the background. The complete performance was transcribed and scored in an Acrobat file, a portion of which is shown below. A midi file of the transcription, lovbaktj.mid, is also available. It might be instructive for novice transcribers to compare the transcription as produced by the midi file with the printed transcription and then with the original performance. (Improvements over my version are certainly possible!)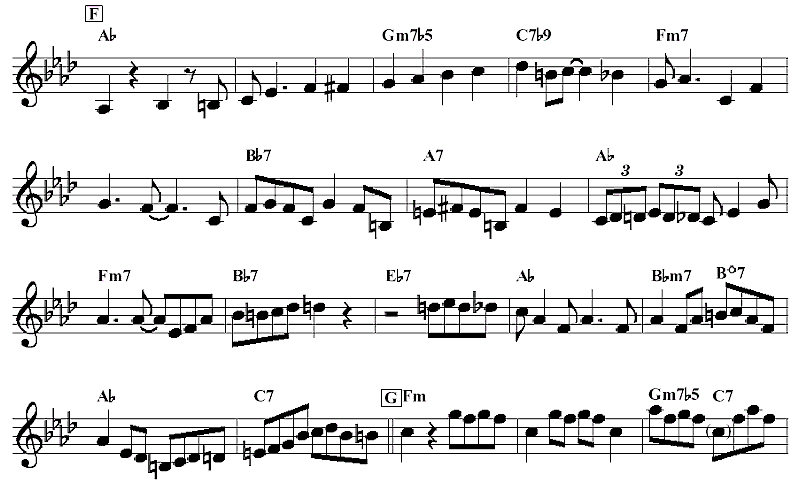 (Excerpt from Transcription)
---
Music by Horace Silver. ART BLAKEY, The Jazz Messengers, Columbia Legacy, CK 65265.
Hank's improvisations are good examples of melodic lines which follow the changes closely. This solo is from one of the early Jazz Messenger's albums featuring Art Blakey, Horace Silver, Don Byrd, Hank Mobley and Doug Watkins. The transcription in the link above (excerpt follows) is in concert key. Note his use of a diminished scale in the last three bars of the excerpt. The same solo, transposed to tenor saxophone key, can be downloaded from ndhmts.pdf.
(Excerpt from Concert Key version)
---